和楽器の音色を生かしたオリジナル楽曲及び編曲により、聴きやすく受け入れやすい形で和楽器の魅力を提供します。
これまで和楽器の音楽シーンはインストルメンタルが主流で、一部の文化人の愉しむ世界という、敷居の高い性格のものが多かったと思います。
「和ポップ」は聴く人の知識情報レベルを問いません。
初めて和楽器の生音に触れるのが「和ポップ」で、その音色を好感を持って受け入れていただけたら、それは至上の喜びです。
"和楽器と洋楽器のコラボレーション"ということも、「和ポップ」の重要な要素で、
更に現代音楽に欠かせない打ち込み電子音も、効果的に使っています。
現代的な隠し味を使った和の味わい、それが「和ポップ」の真髄です。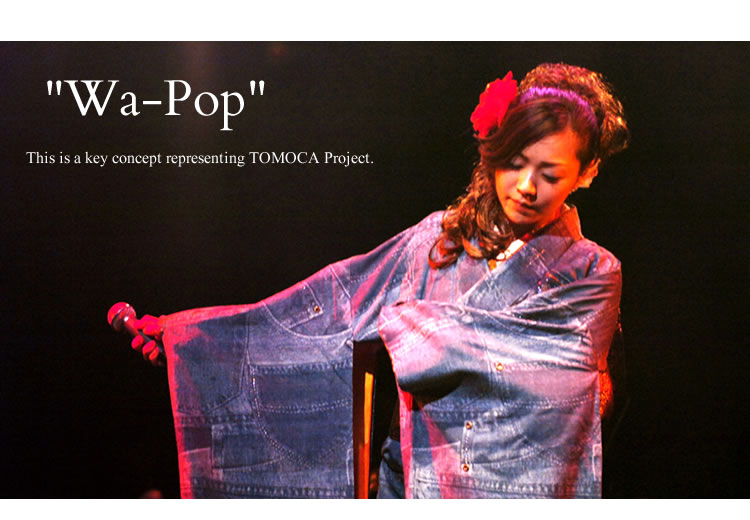 "Wa-Pop" - This is a key concept representing TOMOCA Project.
Let us offer you our unique and new style songs with a harmony of Japanese("Wa") instruments
and other musical instruments under the name of "Wa-Pop"
so that you can find out a real fascination of the Japanese instruments.
We'll present our original numbers and some well-known songs in our own arrangement.
The Japanese instruments, usually played at concerts in instrumental and traditional way,
have an image that only a limited number of people can appreciate it.
"Wa-Pop", on the other hand, is a music for everybody.
We hope you enjoy the live sounds of the Japanese instruments through "Wa-Pop" we create.
"Wa-Pop" is also a collaboration of the Japanese and modern Western instruments with
an effective use of electronic sounds.
The sound of the Japanese("Wa") instruments with a taste of modern music("Pop")
- this is the spirit of "Wa-Pop".
The spirit will be adopted to the stage costumes for TOMOCA and her band members.
And in the future, we'll show you this "Wa-Pop" concept in her visual works too
- the stage settings, fliers, brochures, etc.
Let's dig out the new possibility of music together and you'll surelly love it!